How Transform Construction's 'just say yes' mentality landed projects with Sweet Carrot and Cameron Mitchell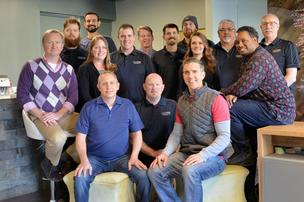 A Columbus construction company is growing rapidly alongside big-name clients including Cameron Mitchell and Sweet Carrot, thanks to a "just say yes" mentality.
Transform Construction is on track to do $14 million to $16 million in revenue this year, up from $8.5 million last year and just over $1 million in 2012.
What began in 2002 as a provider of home renovations has evolved to include everything from apartment and hotel construction to new restaurant build-outs.
"The biggest jump would have been three years ago, we did a 40,000-square-foot shopping center," founder and CEO Joshua Weir told me. "We said, 'well we've never done it.' Within six months we got another $4 million commercial (job). We kind of just kept saying 'yes.'"
Transform helped Cameron Mitchell Restaurants with its new home office in the Arena District, the Guild House restaurant in the Short North and Ocean Prime in Washington, D.C., among other projects.
It is building out the Original Pancake House in Upper Arlington.
And the company expects to grow alongside another well-known restaurant client, Sweet Carrot, which is setting sights on expanding beyond the Columbus region.
Transform is working on several hotels for Columbus' Indus Hotels.
"We have such a diverse offering," Weir said. "We have four production managers, really like vice presidents, and they run the different divisions. We kind of just kept expanding."
Also driving growth, Weir said, is the 19-employee team's client-first focus, and a newer philanthropic initiative.
In 2014, Transform committed to giving 10 percent of profits to orphan charity Asia's Hope.
"We see our tremendous growth as being connected to that decision," Weir said in an email. "(Having) a giving mentality has influenced Transform's culture in a way that impacts employees, trade partners and clients."
Of course, all the growth comes with challenges.
"It's been really exciting, but also we've had to pay our dues with a few stressful years and steep learning curve – and growing our staff quite a bit," Weir said. "We are blowing out of the space (at 1171 Chesapeake Ave.). We'll probably move in the next year."
Weir provided a list of active and upcoming commercial projects:
12 unit condo project in Franklin Park area
Original Pancake House – Upper Arlington
Popeyes – near Ohio State University
Sweet Carrot – Polaris
10,000 square foot restaurant and retail – Powell
Hilton Garden OSU
Hilton Garden Hilliard
Apartment reconstruction – south side of Columbus